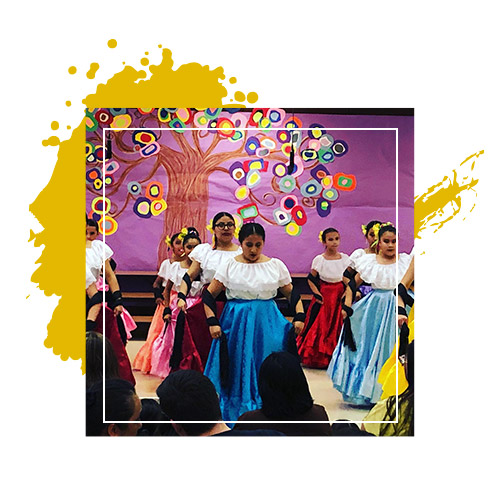 Fine & Performing Arts
Perez students receive a minimum of 2 hours per week of fine and performing arts instruction. Students in primary grades have additional art and music as an opportunity for creativity and inquiry to be integrated throughout the school day. Each Spring the Annual Fine Arts Festival is held for the school community. Art and music stimulates students' brains and research has shown the benefits to learning and development.
.
Spanish
Approximately, 42% of our student body is enrolled in the Transitional Bilingual Education Program which emphasizes a transition to the General Program of Instruction as mandated by the Bilingual Education Act.
Enrichment Opportunities
Perez elementary offers all students in pk-8th a diverse range of enrichment opportunities. Students participate in art, music, physical education, and world language in all grade levels. Ensuring the student educational experience encompasses movement, creativity, and exploration is a priority. Perez is unique in that we are a public school offering music, art, and mandarin.
All students (pk-8th) will be provided opportunities to be in music, art, physical education, and mandarin on a weekly basis for a minimum of 5 hours/week.

The goal is for students to remain active, creative, and engaged in inquiry throughout the school day, which will provide students with a learning experience that focuses on the whole child and stimulates their brains.

Art, music, language, and movement are not optional for learning but necessary for children.
ENROLLING PRE-K NOW
2020/21